Norwegian Princess Named after Star Wars Princess
Princess Leia

Princess Leah
, may the force be with her.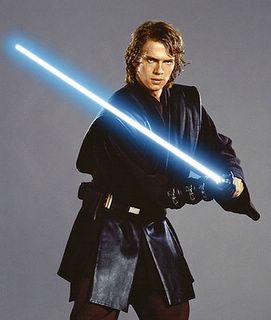 Anakin Skywalker aka Darth Vader, father of Leia. Not invited to the christening.
'Star Wars' princess inspires real royal name
Norwegian Princess Leah's name was inspired by a character in a "Star Wars" movie, the mother of the infant princess was quoted as saying Thursday. "I must admit that I have always been a big 'Star Wars' fan, and Princess Leia has always been the most beautiful in the whole world," Princess Martha Louise said in an interview with the Norwegian daily Aftenposten. Princess Leah, born on April 8 this year and fifth in line to the Norwegian throne, was due to be baptized Thursday. In the "Star Wars" movies, Princess Leia is the twin sister of Luke Skywalker and the daughter of Darth Vader. Princess Martha Louise did not explain the slight difference in spelling of the two names, both pronounced the same way.